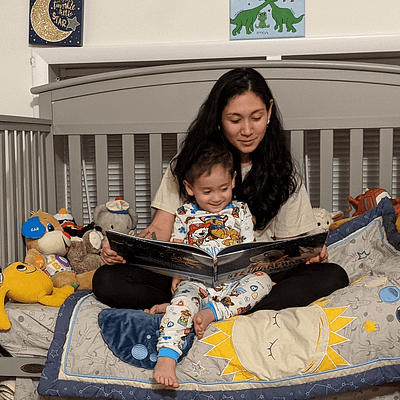 Hi, my name is Anna! I created this space as an effort to share my love of children's books with others, promote literacy, and share the books that my family has found value and joy in. I also wanted to provide my readers with an easy way to find very specific books by organizing book lists by age, interests, occasions, & themes. All my book reviews are honest and my own. One of my favorite things to do is to feature up and coming authors. You will see author spotlights throughout this blog of the books we really love!
I will also occasionally be sharing my experience in raising a reader and what is working for us. Discovering my son's learning style through books & education has been an absolute gift, that being said I believe that learning happens in so many ways aside from just text. I will also be sharing bookish activities, crafts, & costumes related to books that we've read. I will include adult book suggestions and reviews of books I've read.
Going beyond the books, I have an Etsy shop with custom bookish apparel and goods to shop from (because who doesn't love to wear their book on their sleeve :D). I created this blog to share the things I'm passionate about. My hope is that you explore and find some books that add value to your family's lives and bring you joy. Welcome to the club!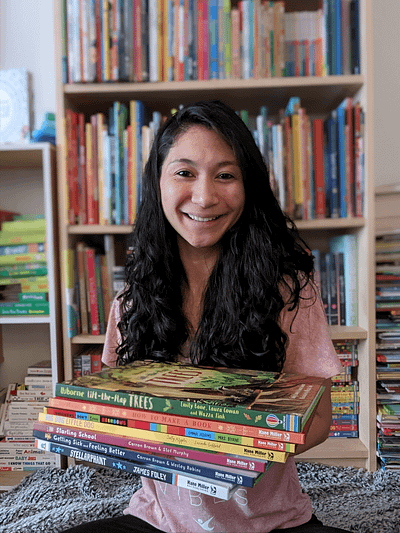 I am a first-time mom to a spirited 2.5 year old and an Usborne Books & More consultant. I have a long-standing love of books that was cultivated by a mother that always encouraged reading & education and a bookworm father who shares my love for literature. When expecting my son one of the things that was crucial for me was to have books available to him (and lots of them!). I started to build his library when he was still in the womb.
When he was about 7 months old and I was laid off from my job, I was invited to a book party thus being my introduction to Usborne Books & More. I instantly fell in love with the books and the company. Joining only made sense to me. It gives me the opportunity to share books with other families, promote literacy, & build an extensive library for my son for free and discounted prices. Watching his love of books grow through this process has inspired me to share this journey with others.
This blog does not exclusively cover Usborne but includes an extensive collection of kids literature that we love. I'm passionate about finding high quality, engaging books that help children learn, grow, develop socially & emotionally, discover their interests, & just have fun!
VIRTUAL BOOK BASHES
WHAT IS A VIRTUAL BASH?
A "book bash" is a gathering of people (on a virtual platform) who get to learn about the quality & benefits of UBAM books from me! A host who partners with me for a book party will earn free books based on the sales earned from the party. The best part, we'll help other families learn about books that will benefit and captivate their children.
HOW DO THEY WORK?
You and I will work together to share about how amazing Usborne Books & More books are through our VIRTUAL "e-party". Picture this, you're on relaxing on the couch in your PJs with your favorite drink in hand, kids are in bed, and you're chatting about your love of awesome children's books with your crew.
Your role is to invite your guests in an intimate & meaningful way (I'll provide example wording and guidance that will make the task easy peasy!) and get folks excited about the event. I do all the set up & "work" of the event and you just get your people hyped up!
Before your party, I'll create custom idea lists for your guests to provide some book options that will be personalized for their kiddos. During the event (it's about 30 minutes long) I will share 10 posts highlighting Usborne Books & More and all that they provide and offer. These are super engaging posts with lots of visually appealing pictures, informational videos, and loads of literacy tips. The event is designed to be interactive, and I like to make sure your guest's valuable time spent, is worthwhile. I also do fun giveaways just for guests participating. The virtual parties really are a blast when everyone is having fun and chillin' in their comfy clothes. 😛
My number one priority is to ensure that you have an enjoyable and successful party. This will allow us to get you as many free books as possible. The experience truly is a partnership. If we work together, I'm sure we'll rock it! Many of my hosts have earned $200 or more in free books! My mission is to promote literacy and help families discover amazing books for their kids – all while you earn awesome books for your own family. Pretty awesome right?!
JOIN THE TEAM
As a UBAM consultant, I've had the pleasure of leading a team of women who find just as much joy in children's books as I do! My team and I have helped many other families build their home libraries too. So many benefits come with being a UBAM consultant. To name a few, you get 25%+ commission on all sales, there are no monthly sales minimums or quotas, you never have to carry physical inventory, you have the opportunity to earn free books for your family, and you can even earn free trips!!) Having the group of women that make up my team in my corner and us cheering each other on, is probably the most magical part of it all.
Once you're a part of my team you will be given all the necessary resources and support to thrive. I do my best to help each of my team members reach their personal goals. That widely varies. For some, they simply want to build a home library for free and discounted prices. For many, it's earning a little extra income a month to help support their families financially, and for others, it's going all in and making this a full-time career, with the potential of earning six figures (believe me, I see it happen all the time!!)
Whatever this journey looks like for you, I'm here to stand by your side as your biggest cheerleader, help you work through obstacles, envision new ways to promote literacy, share my experience with what has worked for me, and provide you with allll the resources. I truly want you to experience the same joy and blessings that UBAM has afforded me. Together we will make an impact and touch the lives of children, one book at a time.