Rainy Day Activity Books for all ages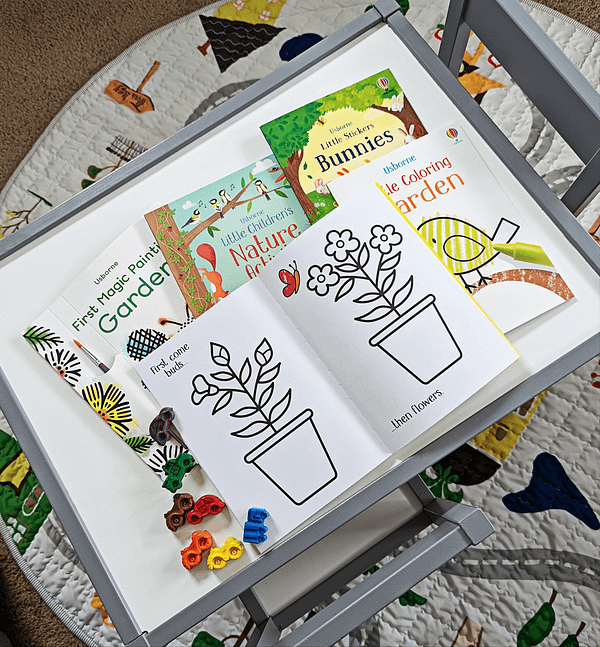 Now that we are fully in the swing of Spring, there will be copious amounts of rainy days. When you're stuck indoors with the kiddos and don't want to rely too heavily on screens, it's always good to have some activities at the ready. UBAM has you covered! We offer a fun array of games, puzzles, and activity books, for all ages. (even adults!)
You can shop the activity book ideas by the using the links below. If at any point your wishlist gets out of control (hello, mine ALLLL the time lol) you can sign up to host your own virtual book bash and earn tons of titles for free. To learn more about how a book bash works and sign up, click here!
Interested in becoming a consultant and earning free books regularly? Click for more info! If you're ready to take the leap, come join me!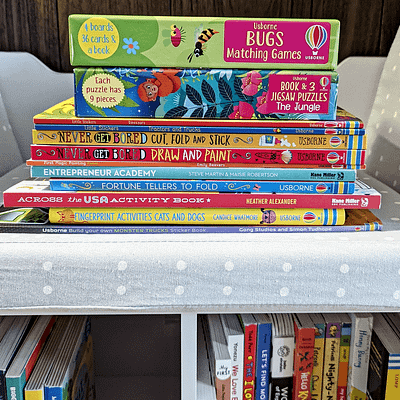 Wipe-Clean Dinosaur Activities– These wipe clean books are such a fantastic learning resource, as well as fun activity. They provide a lot of opportunity to practice pen control and essential skills needed to learn to write. The best part, you wipe it away and do it all over again. Repetition is such a key component of learning.
You Choose– This ever-changing story encourages creativity, autonomy, and decision making skills. The reader gets to choose every detail of the story (what kid doesn't love that!?) With simple text and detailed illustrations, this book is great for pre-readers and emerging readers alike. Be prepared, this book sparks lots of discussion, curiosity, and snuggles!
100 Paper Dragons to Fold & Fly– This is such a cool activity book. Kiddos can choose from 100 different tear-out sheets with 4 different fold designs. They will fill the sky with fearsome fire-breathers, many-headed monsters, and mysterious sea creatures.

Color & Pop-Up Mermaids

– Aren't pop-up books the best?! This series allows kiddos to color and create their own pop-up books. Each book has 8 spreads and 8 press-out characters to color. After you press out the pieces, you follow the instructions to glue the pieces in place to create a magical pop-up book.

Cinderella – Book & Jigsaw Puzzle (30 pcs)

– This 30-piece book & jigsaw puzzle combo is the perfect activity for kinders. Puzzles help develop hand-eye coordination & promote problem solving skills. UBAM has so many different puzzle/book topics to choose from. There's something to fit every kiddo's interests.

Build Your Own Monster Truck Sticker Book

– I'm a big fan of this popular series. Using the stickers provided, kids can build 10 awesome monster trucks. Kids will match the different parts, wheels, and accessory stickers to the correct spots to create awesome monster truck models. These books strengthen fine motor & critical thinking skills.
I want to personally thank you for any support of my small home-based book business. As an Usborne Books & More consultant, I earn commission on all sales generated through the shopping links listed. This money goes to help support my family & support other small business owners. If becoming an Usborne Books & More consultant interests you, you can click here to find more information. I'd love for you to support our literacy mission and change the lives of children, one book at a time. Feel free to email me any additional questions you may have. l[email protected]