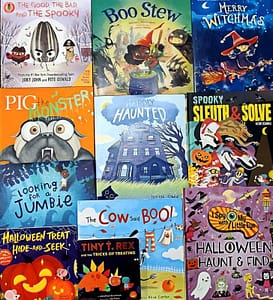 Looking for a spooky read?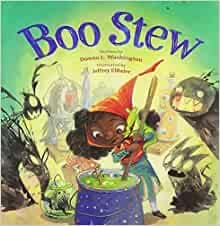 Boo Stew by Donna L. Washington; Illustrated by Jeffrey Ebbeler, 2021
Recommended ages 4-8
A humous, spooky spin off of Goldilocks. Curly Locks loves to cooks only problem is her cooking is atrocious. The townspeople avoid eating it at all costs. When a few "scares" come from Toadsuck Swamp and begin terrorizing the Mayor's house and townspeople, Curly Locks has a plan to use her cooking to save the day.
The Good, The Bad, And The Spooky by Jory John; Illustrated by John Oswald, 2021
Recommended ages 4-8
Presented to you by the dynamic duo that brought you the Bad Seed. The Bad Seed is in a bad mood! It's Halloween and while he usually looks forward to it every year, this year he cannot find the right costume. All the good ones are taken! He devises a plan to postpone Halloween to buy himself time. In his quest he may just find out what Halloween is really about.
Pig The Monster by Aaron Blakey, 2021
Recommended ages 3-5
The lovable pug is back. Only at Halloween he turns in a ravenous candy fiend. He is on a rampage for treats, terrorizing anyone that shortchanges him of candy. After Pig gorges on tons of candy including CHOCOLATE, his friend Trevor thinks quick on feet. After a sick belly and quite the sugary mess, Pig may have learned his lesson.
The Cow Said Boo by Lana Button; Illustrated by Alice Carter, 2021
Recommended ages 4-7
When Cow gets a terrible cold making all his moo's sound like boo's and has an unfortunate mishap with a sheet all the farm animals mistake him for a ghost. They run and hide away, but Cow finds a crafty way to reveal his true identity and save his friends from some real danger. This not so spooky tale makes for a fun festive read.
Merry Witchmas by Petrell Marie Ozbay & Tess La Bella; Illustrated by Sonya Abby, 2021
Recommended ages 3-7
A spooky festive story that shows Halloween and Christmas really can coexist. Ginger is not like the other witches, she loves Halloween AND Christmas. Every year she's hoped for a visit from Ole' Saint Nick, and this year she's going to make sure she gets one. Will a letter to Santa and a little bit of magic Ginger's Christmas wish may just come true?
Looking For A Jumbie by Tracey Baptiste; Illustrated by Amber Ren, 2021
Recommended ages 4-8
A silly not so scary nighttime adventure based on Caribbean folklore. When Naya's mom says jumbies only exist in stories see sets off on an after bedtime adventure to find a scary one. The friends she meets along the way fit the description but they don't seem all that scary and they confirm her mother's words. They join her on her monster hunt, but will they find their jumbie?
Hardly Haunted by Jessie Sima, 2021
Recommended ages 4-8
House thinks she may be haunted. Her doors creak, her stairs squeak, and her pipes rattle. Only problem is House is lonely and doesn't want to be haunted. She tries to be on her best behavior so someone will want to purchase her and live there. After much effort and lack of success, house decides she may just need to find a family that likes spooky things. Will the right family find her?
Spooky Sleuth & Solve by Victor Escandell, 2021
Recommended ages 8-12
This spooky brain-teasing activity book is perfect for older readers. This book is inspired by classic monster characters. Readers must read the back story, answer the questions, and translate it with cryptography to solve the spooky puzzles. This can also be played as a team. This eerie festive book helps readers sharpen reading comprehension while having fun.
Happy Halloween & Happy Reading!