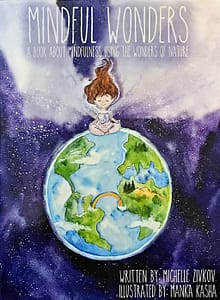 *Contains affiliate links*
Happy 1-year birthday to this amazing Earth Day inspired book that also promotes mindfulness and meditation for children.
Kids are never too young to benefit from meditation and mindfulness and I truly value books that promote this message. This book briefly defines mindfulness and meditation in kid-friendly language. It proceeds to take the reader on a meditative journey while visualizing the many wonders of nature, helping to calm their minds, and connect to their body and breath.
It invites you to imagine the Earth, the sunrise, the ocean, a rainbow, the mountains, the trees, a river, the moon, the stars, and many more elements of nature while guiding you through short meditations that each include breath-work and lovely affirmations.
Each mini meditation is accompanied by colorful, stunning illustrations that vary from deep cool blues and purples, to warm yellows and oranges.
This book is an excellent resource for both parents and teachers and would be a great addition to any classroom, library, or home collection. You can find the author on Instagram, @mindfulwonderbook to give her a follow. She is an inspiring lady! Former elementary teacher turned yoga instructor and world traveler, her passion for children's literature and the power of mindfulness shine through in this book.