Author/Illustrator Spotlight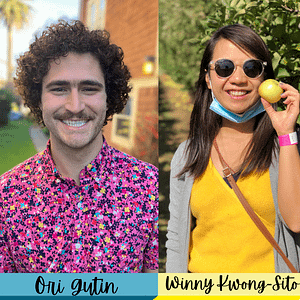 Tell me about your upbringing and background.
Ori: I am the youngest of 5 kids all born within 8 years of one another. It's safe to say that it was quite the entertaining household to grow up in! For most of my childhood, I lived in a suburb in Maryland, in a mostly Jewish community. I spent my days studying at a Jewish Day School, spent my afternoons playing baseball, and spent my evenings causing mischief around the house, and then blaming my siblings 🙂 I loved to read when I was young, but even more so, I loved to be read to. I have the most wonderful memories of curling up in my parent's bed, reading Roald Dhal or Harry Potter with my mom, and reading Chronicles of Narnia and stories of Greek mythology with my dad. When I was 13, my family moved for three years to Israel, and with Europe, Asia and Africa so close, we did a fair bit of exploring during that time. We visited the pyramids of Giza, the great rock temples of Petra, beautiful beaches of Crete, rolling hills of Tuscany, and much more. By the time we moved back to the states, I had developed quite a taste for adventuring. This passion led me on trips to Fiji, New Zealand, Australia, India, and to various places across the US and Canada, with 3.5 years at University of Maryland getting my degree in Environmental Science sandwiched in between. After a number of years of exploration, I moved to San Francisco and started to settle down… at least for now!
Winny: I'm a first generation Chinese American, immigrating to the US from Colombia when I was six, and have spent most of my life in the Greater Boston Area. My experience as a first-generation immigrant shares many commonalities with others of a background – riddled with identity crises, navigating cultural challenges inside and outside the home and above all, simply trying to survive. The first handful of years in the US was difficult, adjusting to the new life here with my brother, but mostly doing all this without my parents who, due to legal reasons, were still in Colombia. Even after their arrival, they spent most of their time working and rarely had time for me. In order to combat the loneliness, I spent a lot of time drawing. I always had a knack for drawing, and due to my circumstances, I drew a lot. It was a great way to breathe life into the creative characters that lived inside my head, and to form these imaginary worlds for them to live within. As I got older, my work expanded beyond the confines of being a safe haven for myself, but it became a way of exploring and visualizing my identities, as a Colombian-born Chinese American, a daughter and so many other hats. Art has also become a way for me to manifest an inner peace that is so hard to find these days.
What is your educational and career background?
Ori: I studied Environmental Science and Policy in college and was dead set on dedicating my life to protecting our natural world through public policy, but life had others plans… 6 months into a climate and energy policy internship at a think-tank in DC, I was miserable. I hated sitting in front of a computer all day and not being able to engage with people or enjoy the world I was working to protect. So, I quit, spent a summer leading back country canoeing trips in the Canadian woods, spent a year traveling around India, working for a period of time leading environmental initiatives in the Himalayas, and then moved back home to live with my dad, clueless as to what I wanted to do next. I spent a year working in a restaurant before I found an amazing job across the country as an outdoor science teacher in an elementary school. While in that job, I loved the environmental education work I was doing, but I began to find myself more drawn to the interpersonal dynamics and social emotional development of the kids I was working with. I decided I was going to do a 180 and begin a career in youth mental health. Over the last two years I started a Masters in Counseling program, volunteered for the San Francisco Suicide Hotline, and worked as an emotional support staff at an elementary school, a therapist trainee at a high school, and a counselor at an adolescent residential treatment center. My ultimate goal is to combine my loves for nature and mental health, and help youth find internal healing through engaging with the natural world.
Winny: I graduated from the University of Vermont with undergraduate degrees in Human Development and Family Studies, and Spanish. After college, I worked for almost two years in higher education before making a career switch to user experience design. Now I work fulltime as a UX designer and love every moment of it.
What was your inspiration in becoming an author/illustrator?
Ori: During the year after I came back from traveling in India and was at home living with my dad, I fell into a pretty deep depression. In order to help pull myself out of this downward spiral, I was binge-reading self-help books. I must've read 20 before one actually felt like it made a difference. I read a book called, "The Happiness Trap," by Russ Harris, which outlined the philosophy of Acceptance and Commitment Therapy. It's message of accepting the difficult things we think, feel, and experience, rather than trying to get rid of them, resonated so deeply with me. As I grappled with my own mental health and tried to accept the challenges I was facing, I wrote a poem called, "The Butterfly Who Flew in the Rain." A few days later, curious to hear what others thought, I posted it to Facebook. The response was so supportive! So many folks shared that they resonated with the poem, and one encouraged me to turn it into a children's book. I had always been a fan of picture books, and I loved the idea of sharing this important message with kids at a young age, so I dove right in! I spent the next two years learning more about the ins and outs of the publishing world, editing my work, partnering with a brilliant illustrator, and finally, I had a published book! In tandem with my career as a youth therapist, I hope to develop a side-career as a children's book author, writing stories that help create more emotionally aware, expressed, and resilient children.
Winny: Actually, creating a children's book was always on my bucket list of things to do. I just didn't expect it to happen so quickly! I've always loved children's books, how creative they are from the imagery to the layout, and how the lessons we teach kids are the same lessons we are continuously learning and relearning ourselves. Visual stories leave a lasting impression and transcend time, and that's one of the appeals of being an illustrator.
What was the process in your book becoming a reality?
Ori: Turning my story from a scrappy poem into a polished book was quite the process! When I first wrote the story, I knew nothing about the children's book publishing world. Before I had edited my manuscript at all, I started querying publishing companies, and unsurprisingly, I heard cricket. I then explored the idea of using a hybrid publisher, Mascot Books, to get my book out there. I spent 6 months sitting on the manuscript trying to think of what I should do, until one day I just decided to go for it! I emailed my contact at Mascot Books and decided to do it. I figured that if I didn't act now, I might never act at all. Putting some money into the project was just the push I needed to really motivate me. I spent the next year editing the manuscript, getting feedback from friends, family, and critique groups, and when I finally had a finished manuscript, I set out on my search for an illustrator. I went to Facebook and posted a status asking if anyone was interested in illustrating a picture book. I got about 4 people who were interested, and I sent them the first page of my book, asking them to provide their take on the words. They were all beautiful, but Winny's was by far the best. Her watercolors perfectly matched the emotional experience I wanted the book to convey. She spent about a year working on the illustrations, and then wallah! We had a completed manuscript and beautiful illustrations to go along with it. We sent it all into Mascot Books, they worked their graphic design magic, and a few months later I was holding the book in my hands with the biggest smile ever on my face 🙂
Winny: Honestly, I thought the process was pretty seamless and I owe that to how collaborative and communicative Ori was. From the beginning, we shared similar working values: being flexible, treating everything as a conversation, and being transparent with each other. Whether it was working together on the illustrative vision for the book, talking through the tone that we wanted, to ironing out operational issues, we made sure to talk to each other. Sure, there were hiccups here and there, but I ultimately had a great time working with Ori and learning from this process that we built from scratch.
What do you think is most important for me and readers to know about you?
Ori: The most important thing for you and readers to know about me would be that this story is not just a story for me, but rather, it's the result of a multi-year journey through one of the hardest times of my life, and of learning to accept myself on a deeper level. I poured my heart and soul into this book, and my greatest hope is that it will help even one kid (but hopefully many!) get through a difficult moment in their life.
Winny: Hm, there are two things: I believe that everything happens for a reason, and two: you only get so many opportunities in life, and it's up to you to take them. I never thought I would illustrate a children's book so early, but it was serendipity that I met Ori, read an amazing work, took a chance on doing something new, and somehow and for the better, it transformed from a personal endeavor to becoming something bigger than the both of us had imagined!
Do you have any plans for any future work?
Ori: One of the difficulties that comes with not publishing through a traditional publishing company, is that you have to do pretty much all the marketing for your book yourself. So, right now I am pretty swamped with trying to make my first book a success and get it out there into the world, but the ultimate goal is definitely to have many more books come along after this. I have a manuscript in the works called, "Would You Still Love Me Just the Same?" that I am dying to get more time with! You can keep an eye out for any future works on my website, www.orisstories.com.
Winny: Not yet at the moment, but hopefully in the near future! Either looking for a story that resonates with me or perhaps I can write and illustrate my own!
"The Butterfly Who Flew in the Rain" Review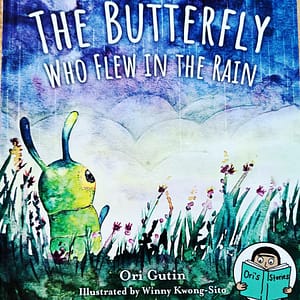 This story follows Cody the caterpillar who was born during a horrendous storm. He finds himself alone and confused wondering if this is how life will always be. One afternoon, the sun comes out as Cody transforms into a beautiful butterfly and all the other animals are there to greet him. For the first time, Cody discovers happiness and friendship. One unsuspecting afternoon the storm comes back. Cody becomes very perturbed, but his friend Blue Jay provides guidance and helps him to see not only will the rain not last forever but he can find a way to be content in the storm. That day he found a way to fly in the rain!
-This new picture book is a beautiful example of finding the beauty in a difficult situation and overcoming hardships. This would be a fantastic resource for children who are experiencing feelings of isolation and worry due to current world events.
-This book provides so many opportunities for conversation and exploration of complex and often difficult feelings.
-It teaches children resilience and the power of perspective.
-I admire that the story shows that there can be many ups and downs but you can continue to grow from them rather than adopt a negative belief system.
-It shows the power of friendship and support. Blue Jay was a huge reason Cody was able to shift his thinking and regain confidence.
-The metaphor of "flying in the rain" is a powerful one. It expresses that we can thrive even when our circumstances aren't ideal.
-This story was moving and inspirational and the watercolor illustrations are absolutely gorgeous.
-The book includes resources for social emotional learning, including guided discussion questions and a free guide to help children overcome obstacles. I really appreciate that Ori included these valuable resources.
My takeaway from the book is that it's so important for us to be honest with children about the obstacles and hardships life may throw but it's even more important for us to teach them how to manage and overcome them. I love that Ori used his personal experience and his passion for helping youth to write this vital book.
My rating 5/5