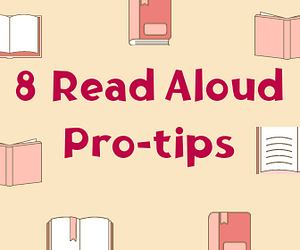 I've extensively researched the information included here and used references from "How to Raise a Reader." Reading aloud can be a sacred and bonding experience for child and caretaker. Get the most out of this time together by trying some of the tips outlined here.
Read with your child rather than to your child

When you make reading aloud a collaborative effort it becomes equally rewarding, connecting it with a positive and enjoyable experience. This conveys a message to your child that reading is gift rather than a chore. This belief builds a foundation for a lifetime love of reading. Many early childhood experts insist that there's a huge difference in reading with a child, rather than to a child. My first-hand experience confirms this advice.
Find a comfortable position (it doesn't have to be static)
Find a comfortable reading position for both you and your child. This will vary from child to child and differences in personality. Some may prefer to sit in your lap to get a front row view of the book and have that physical connection, some may prefer sitting across from you using their auditory skills to absorb the story (you can turn the book to show illustrations after a page is read.), or others, like my son may enjoy roaming about the room with intermittent moments of focus and snuggling next to you. Whatever it be, follow your child's lead and allow them to find their happy place.
First introduce the Author/Illustrator
This helps a child understand there's inspiration behind the story and fosters an appreciation for the creators. It also allows them to gain familiarity with authors and illustrators they favor. They can begin to recognize similar writing and illustrating styles. Take it a step further and read and discuss the author/illustrator bios often included on the last page or dust covers. I always love to discover more about the creators in these little snippets.
You don't have to read every word
This is especially true for younger readers. You can summarize, replace words that are easier to comprehend, or even create your own story if it's not holding the attention of your little reader. The important thing is that they're engaged and enjoying themselves, don't fall in the trap of being too rigid because it must be read word for word. Another scenario, some older children's literature can be a bit abrasive or callous, don't hesitate to make it more age appropriate and sensitive, especially if it's a childhood favorite that's important to you to share.
It's okay to let your child interrupt
If a child interrupts often or has many questions, it's actually an indicator that they're genuinely interested in the book. If you find yourself becoming irritated because you're unable to read cohesively, take a moment to examine this, and remind yourself that this is your child's way of learning. This is a great opportunity to dig deeper, learn together, and encourage a healthy sense of curiosity. If you catch yourself powering through to finish the sentence or page just be sure to circle back to your child's inquiries.
Let them turn the pages
Toddlers love being in charge and this is a great opportunity to allow them to take the lead in a reasonable capacity. It also helps strengthen their fine motor skills. If they have even a little bit of control it helps them feel like they're part of the process thus building on the idea of reading with them, rather than to them.
Point at and talk about the illustrations
Illustrations often tell a story all their own and depict things that the text cannot express. If you notice your child is more interested in the pictures than the words, use it as an opportunity to ask what they see and discuss it further. This is a great exercise in building their observational skills while increasing visual awareness and encouraging creativity.
Read Slowly
I know I've gotten caught in the trap of reading faster with the intent of sharing more information while I have my son's attention, but what I've noticed is he engages more meaningfully when I slow it down. Be sure to exaggerate the funny or silly parts, kids will really get a kick out of this. You can use the rhythm of the text to create a mood or suspense. Many books have a lullaby or sing song feel, don't be afraid to make it all your own and belt it out. It's moments like this that our children will cherish and remember well into their adult life.
Reading aloud can create memories and a love for books that can last a lifetime. Create a more meaningful space by trying some of the pro-tips listed here.