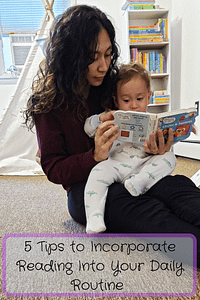 Reading with your child daily or providing them the opportunity to explore books on their own can seem overwhelming. Here are a few easy and stress-free ways to naturally incorporate a little more reading time into your daily routine.
Keep Book Baskets in Every Room
EVERY room, you ask. Even the bathroom?! YES, even the bathroom. We like to keep potty books, bath themed books, and literal books that go in the bathtub in our bathroom basket. You can get creative, spread them throughout your house, in the living room, in the kitchen, and in the bedroom. There is something about a basket full of goodies that draws kids in. Set out your baskets and watch their interaction with books almost instantly increase.
Make Books a Part of the Naptime Routine
I'm sure many of you already incorporate reading into your bedtime routine and with good reason, it lowers stress levels, promotes bonding, and encourages a love of reading, but do you also read before naptime? This is an easy way to incorporate a little more reading time into your day, plus it will help your little one wind down and I'm sure they will enjoy the extra time together.
Keep Books Front Facing and Accessible
I love using a traditional display book rack which can be obtained on Amazon for pretty cheap, $25-$30. Ours is linked here. I put durable books here and on lower bookshelves because they will likely get the most wear. I like to switch them out and rotate them at times to keep my son intrigued. Displaying and "advertising" books is a great way to encourage your child to read naturally.
Keep Books in the Car
Keeping books, especially activity books or search & find books in the car is a great way to keep children entertained during long car rides or just while running errands. Usborne has a fantastic book called "100 Things to do on a Car Trip" for 6 years and up that I cannot wait to use with Atticus one day. A bonus, if you have to go to an appointment or wait in a waiting room you already have access to entertainment for your child.
Incorporate Reading into Mealtime
This is one of my favorite times to read with Atticus. After I've prepared a meal and he's strapped into his high chair, we ready story. This is great because he is sitting still and already focused, which allows both of us to be more present in the experience. Of course, your child does not need to be still to read with them (Atticus rarely is) but I think it's great to take advantage of still moments like this to incorporate more reading time.
Incorporating reading time shouldn't feel stressful or overwhelming, after all we want our children to LOVE books and adding an element of stress does not support that cause. These tips are really easy to mesh with your current daily routine. I hope you find them helpful!
Happy Reading!