The Box Turtle Craft Project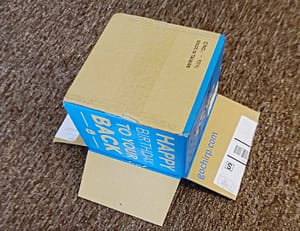 So naturally we started with a box. I chose a smaller sized box because I chose to use acrylic paint for our medium and any more surface space would have been overwhelming. You could also use crayons, chalk, pastels, felt, fabric, etc.
Next I removed all packing tape, stickers, and anything that would disrupt the application of our base layer of paint.
Then I resealed the box by using tape on the inside and I also used hot glue around the edges to make sure it was secure.
Atticus helped me choose our base color, a pretty turquoise!
I painted 2 layers and chose a couple other colors to make my stripes.
I used masking tape (you could also use blue painter's tape) to create even lines for my stripes. I painted 3 layers of both the white and purple.
I used purple glittery ribbon to jazz up my stripes. I adhered it at the ends using a hot glue gun.
After completing the top of the box and the flaps, I used one continuous piece of tape to wrap completely around the middle to create the stripes. I again applied 3 layers of paint for both colors.
My little helper assisted me in applying the 3 layers of paint (He really enjoyed this!) and we waited for it to fully dry before peeling off the tape.
This was the adorable end result, atop my sleepy little turtle. We could have added in much more on the "body". Some additional decorations could be stickers, felt or foam pieces, beads, glitter, etc. I hope you guys enjoyed this project! If you complete a box turtle shell I'd love for you to share it with us!
Happy reading